Agios Nikolaos
---
Agios Nikolaos is the capital of the county Lasithi and is located at the Mirabello Bay, north-east Crete, only 40mins away from the international airport of Heraklion.
Geographically the town is well protected from strong winds allowing sea sports and swimming nearly all year round.
Although Agios Nikolaos has a population of less than 20,000 it has several banks, supermarkets, shops of every kind, doctors, a modern hospital of high standard, public swimming pool and tennis courts, yacht marina, harbour, cinema, theatre, gyms, a 9-hole golf course, schools ranging from nurseries to 6-level high school and generally all the amenities you would expect to find in a large modern European town.
The microclimate is one of the best in Greece and the moderate temperatures rarely exceed 30c in summer or fall below 15c in wintertime. This wonderful dry climate together with the natural beauty of the area has attracted most of the high class hotels of Greece to operate here.
Tourist attractions include the small lagoon Lake Voulismeni, small beaches in the town, the tiny island Agioi Pantes, the archaeological museum, the local flora exhibition "Iris" and numerous fairs. Tourism is mainly west European with Greek tourism concentrating in mid August. The lagoon features a small park with a trail, traditional fishing boats, ducks, pigeons, an amphitheatre and many cafès.
Agios Nikolaos is accessible from the mainland and the whole of Europe through Nikos Kazantzakis airport, and the many daily ferry services in Heraklion. Two ships connect Agios Nikolaos daily with the ports of Piraeus and Dodecanese, and recently the town became host to a department of a Technological Educational Institute (TEI), offering tourism-related courses.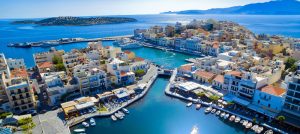 History
Agios Nikolaos was settled in the late Bronze Age by Dorian occupants of Lato, at a time when the security of the Lato hillfort became a lesser concern and access to the harbour at Agios Nikolaos became sufficiently attractive.
The Town
There is an outdoor cinema (the Christina) as well as an indoor theatre/cinema (the Rex) in town. Apart from showing up to date films, local and visiting threatre groups put on shows and plays. There are at least three gyms one of which has one of the highest European indoor climbing walls. Walking clubs, gardening clubs, a sailing club and an international choir are always looking for new members as is the Inco theatre group.
Apart from these there are many other different organizations to join such as 'INCO' an international group of volunteers that work to help integrate diverse cultures but their main attraction is the information they have on their website that keeps the foreign resident up to date with what's on and what's happening locally. Greek language lessons, on a one to one basis or part of a small class, dance, art, pottery and many more lessons are also available. The above combined with sea sports such as windsurfing and diving should keep you pretty busy.
The County General Hospital, located in Agios Nikolaos, is a large, modern hospital. The town also has many diagnostic clinics and doctor surgeries some are private and others accept national insurance patients. European pensioners are covered by the Greek National insurance 'IKA'. Please contact your home country's national insurance offices for more information on your insurance cover status in Greece.
All the villages have primary schools and a few have junior high schools (12-15year olds) but children have to travel to their nearest town to attend senior high schools. All areas have school bus services. Agios Nikolaos has many nurseries and pre-school facilities, four primary schools, two 'gymnasia', Junior high, and one 'Lycieo', senior high. No child is turned away for a Greek school. All lessons are in Greek.
Source: Wikipedia